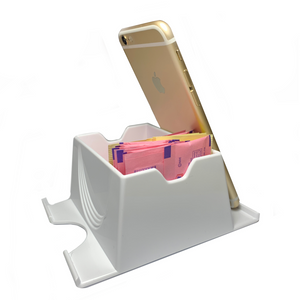 Sugar Bowl Phone Stand
www.Grabitproducts.com is the child company of www.HalpinSolutions.com an automotive design company since 1995 that has designed and delivered products like the Dodge RAM interior, 2020 Mustang, Workhorse truck, F-150 interior designs. Well, we also eat out often. The owner Sean Halpin a breakfast connoisseur found that his time at the Square Lake Diner in Troy Michigan was doubled because he would eat first then scroll through emails and social media. When he started using the sugar bowl - phone stand he could enjoy his breakfast and read the important things to start his day on his phone or tablet. This cut his dining time in half. Thus the table design of the sugar bowl phone stand came to life. Soon after version of the creamer, butter and jelly holders came to production. Now with 23 pallets of product in Fulfillment ready to ship in NC, we are ready to support the delivery of the next-gen table designs to all of your restaurants.
Subscribe to our newsletter
Promotions, new products and sales. Directly to your inbox.